EclectoMANIA
Eclectomania – Tribal Pop
During the early 1900s, the aesthetics of traditional African sculpture became a powerful influence among European artists who formed an avant-garde in the development of modern art.
While these artists knew very little of the original meaning and function of the African and other primitive sculptures they encountered, they instantly recognised spiritual and compositional qualities that acted as a key, allowing them to go beyond the naturalism that had defined Western art since the Renaissance.
In 1907, Picasso experienced a "revelation" while viewing African art at the ethnographic museum in Paris, the Palais du Trocadéro. This encounter impacted his work for the rest of his life. He was not the only artist influenced by African and Oceanic art – Modigliani, Matisse, Gauguin, Klee, Basquiat, Bacon, Leger and many others fell under its spell.
The tide of influence moves in both directions
While European artists revelled in the discovery of primitive art, colonisation took with it ideas and artefacts, and in return filled the vacuum left behind with its own ideologies and consumeristic influences. Globalisation has resulted in universally known icons and brands.
We could say that idol worship and spiritual ritual have been largely replaced by brand obsession and the ritual of shopping. Contemporary tribes are defined by consumer choices. The global might of the entertainment industry and large corporations spread their influence worldwide, and result in a cultural homogeneity. Mickey Mouse is one such soft power ambassador.
It seems fitting on Mickey's 90th anniversary, to partake in this Disney fever. I am not an ardent Mickey 'fan', but I am fascinated by the power of an image – and how it can be broken down and reduced to very basic components and still be recognisable. Those two black spheres are instantly recognisable almost anywhere in the world. They contain the immutable essence of Mickey. The magic of the Disney dream, whatever that is.
Many thanks to the Christie's specialist Susan Kloman – references made from her essay 'Evolution of form'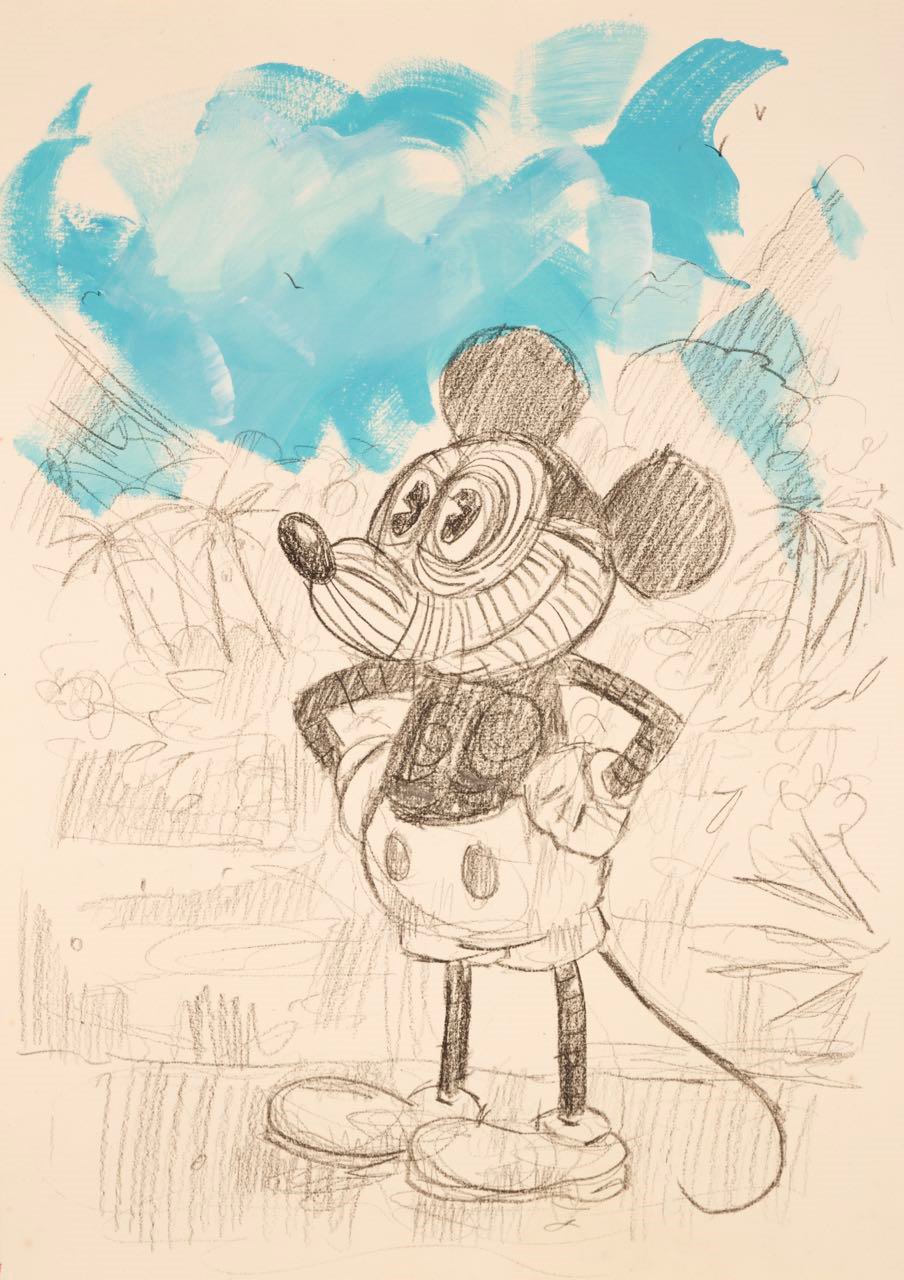 Tribal Mickey I 50 x 60 cm
Tribal Mickey II 80 x 60 cm
Mickey wears Fang 64 x 44 cm
Minnie wears Luba 80 x 60 cm
Au début du 20ème siècle, l'esthétique des sculptures africaines traditionnelles a remarquablement influencé les artistes européens qui formaient l'avant-garde du développement de l'art moderne.
Bien que ces artistes ne connaissaient pas grand chose de l'origine, du sens ou de la fonction de ces sculptures primitives, ils ont reconnu instantanément les qualités spirituelles et structurelles de ces oeuvres. Ceci a été la clé pour les pousser au-delà du naturalisme qui définissait l'art occidental depuis la Renaissance.
Ainsi, en 1907, le jeune Picasso a eu une véritable révélation lors de sa visite du Palais du Trocadéro à Paris, le musée ethnographique. Cette rencontre influencera son oeuvre jusqu'à sa mort. Tout comme Picasso, de nombreux artistes sont tombés sous le charme et l'influence de l'art africain et océanique. Modigliani, Matisse, Gauguin, Klee, Basquiat, Bacon et Léger pour ne citer que ceux-ci.
La vague d'influence agit dans les deux sens
Parallèlement à la fascination des artistes occidentaux pour les arts primaires, la colonisation a emporté les idées, objets et artefacts sur son passage, et a comblé ce vide laissé, par ses propres idéologies et influences consuméristes.
La globalisation a engendré des icônes et marques mondialement connues. Aujourd'hui, l'obsession des marques et le rituel du shopping, ont largement remplacé les rites spirituels d'adoration des idoles et dieux traditionnels. Ainsi, les tribus contemporaines se définissent par leur choix de consommation. Le pouvoir global de l'industrie du divertissement et l'influence mondiale des grandes sociétés aboutissent à une homogénéité culturelle, et Mickey Mouse incarne parfaitement cet ambassadeur « soft power ».
Il est naturel de participer à cette euphorie Disney-esque au moment où Mickey souffle ses 90 bougies. Je ne suis pas à proprement dit un fan de Mickey, mais je suis fasciné par le pouvoir d'une image. En particulier, lorsque celle-ci peut-être décomposée, réduite à ses éléments de base et rester reconnaissable. En effet, ces deux sphères noires sont reconnaissables dans le monde entier. Elles contiennent l'essence immuable de Mickey. Ou la magie de Disney, quelle qu'elle soit.
Mickey Wears Luba 80 x 60 cm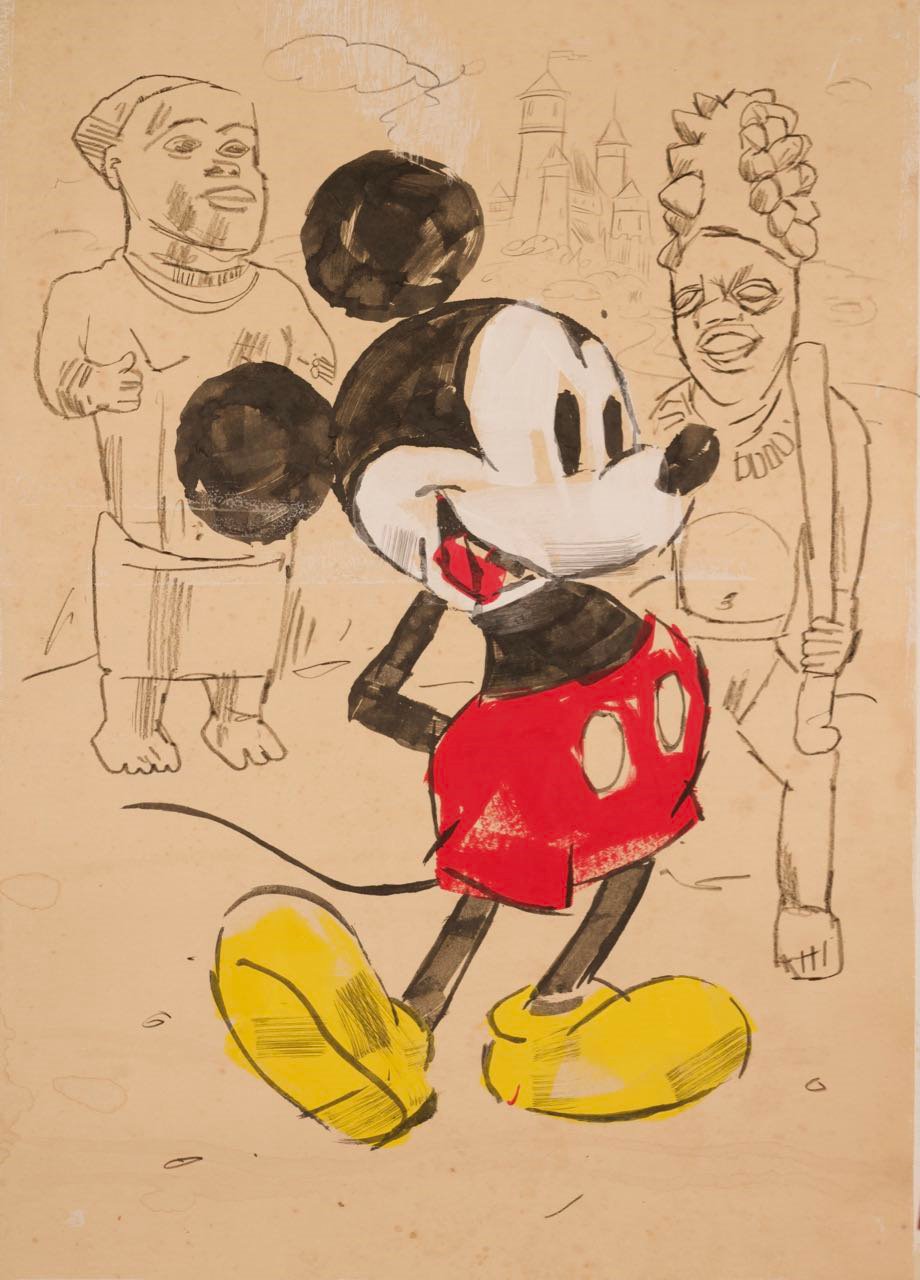 Guests at the Magical Kingdom 80 x 60 cm
Felix Fusion 80 x 60 cm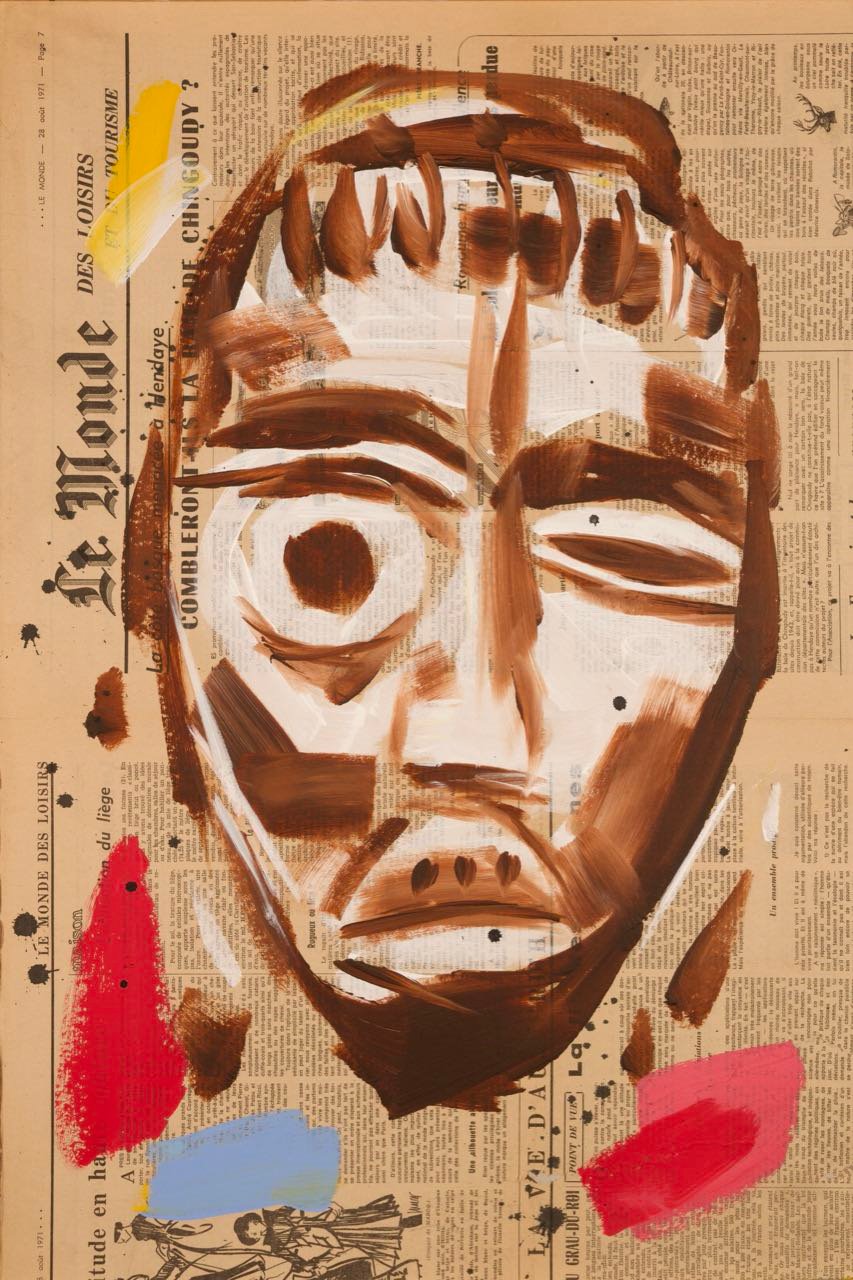 study on vintage newspaper Le Monde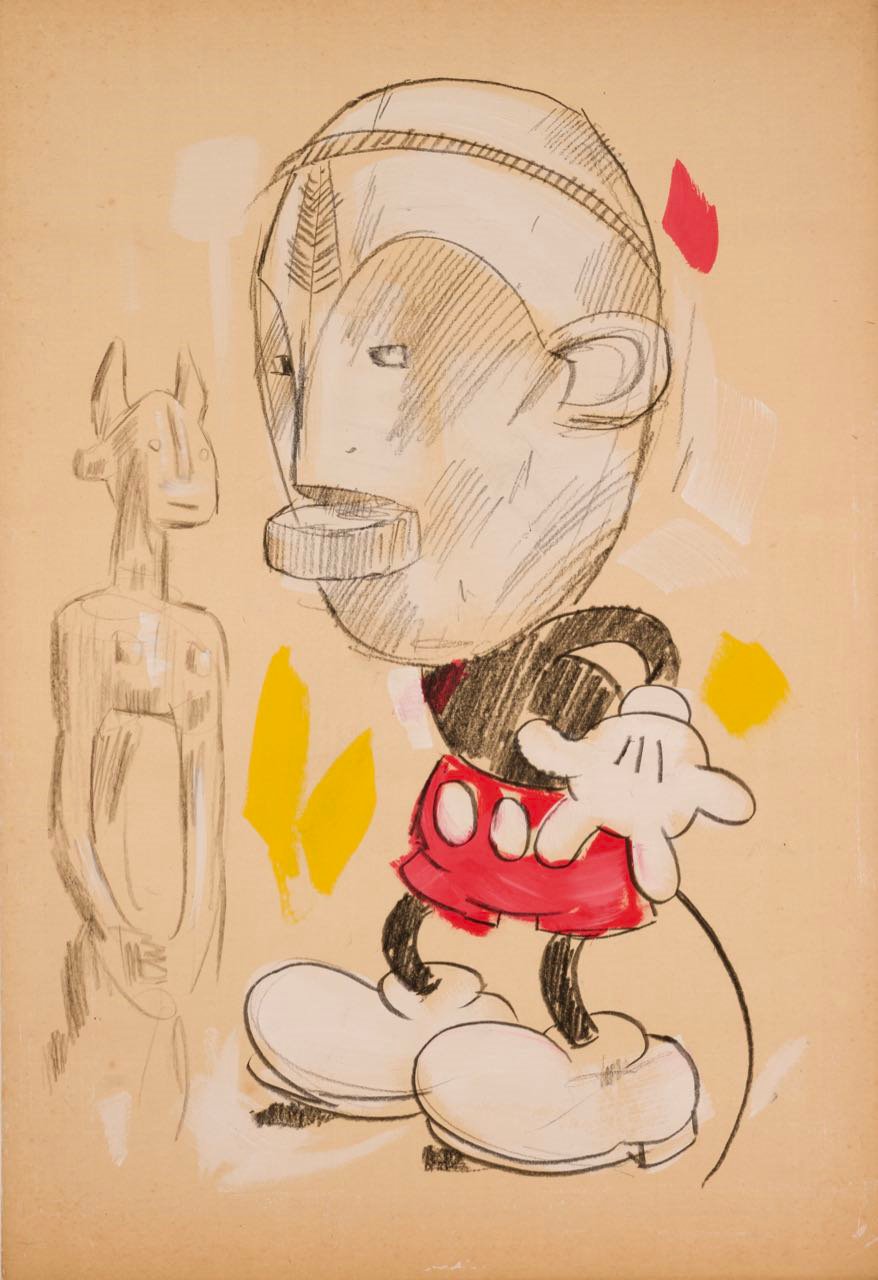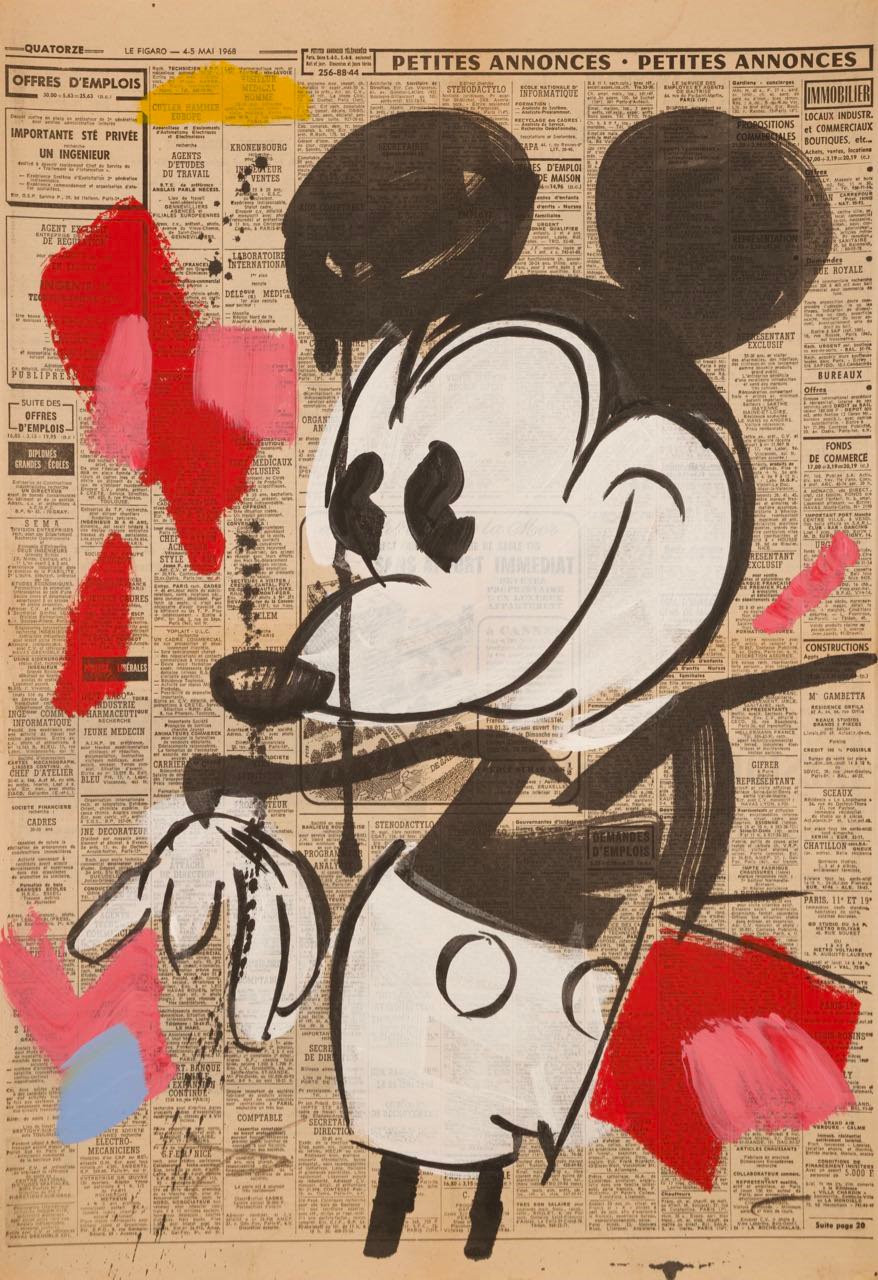 Mickey study on vintage newspaper
Masked figure 60 x 50 cm
Nude with Mask 60 x 50 cm
Tribal Kink 60 x 80 cm
Figure with Dan Mask 80 x 60 cm
Mickey wears We Mask 80 x 60 cm
Man and Machine 60 x 50 cm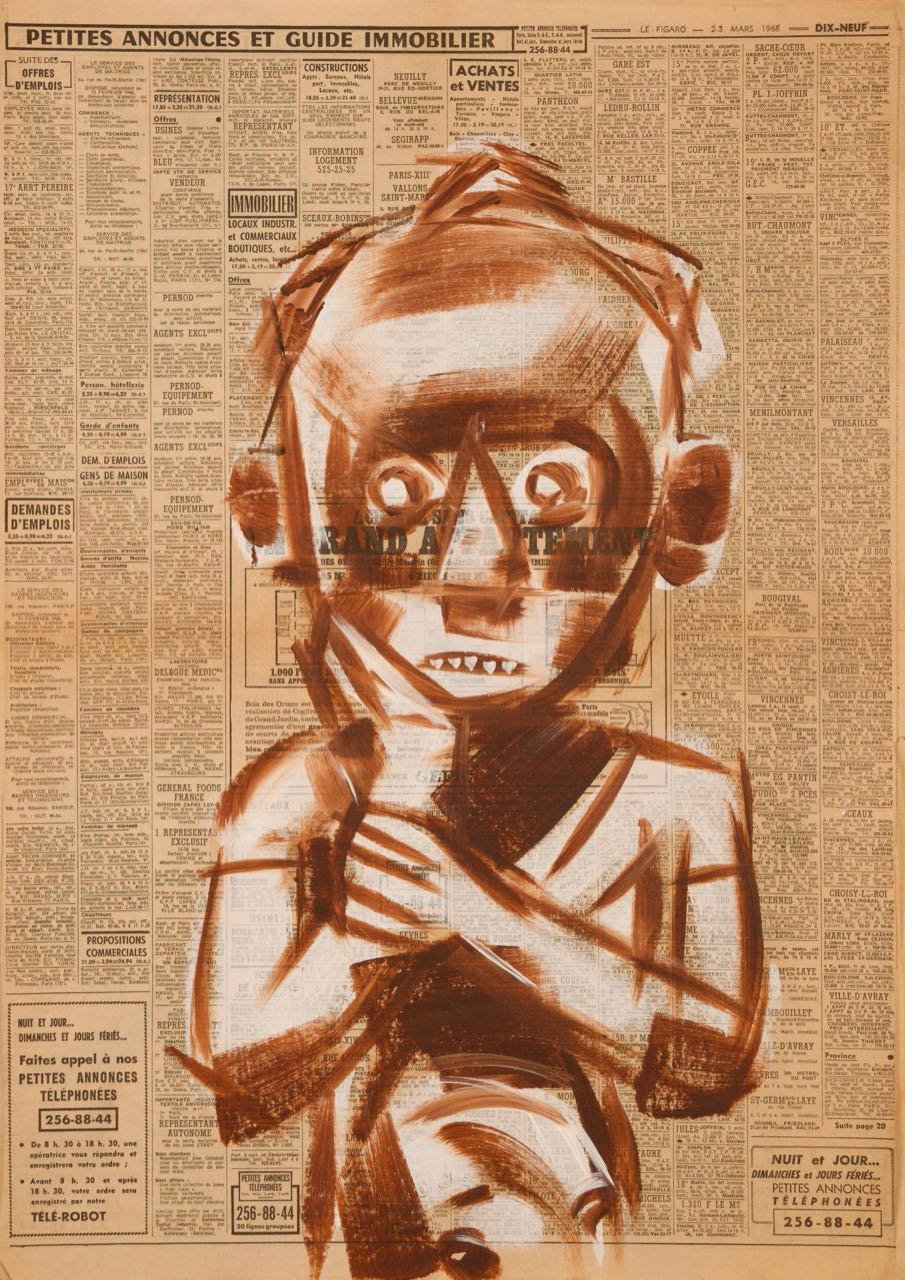 study on vintage newspaper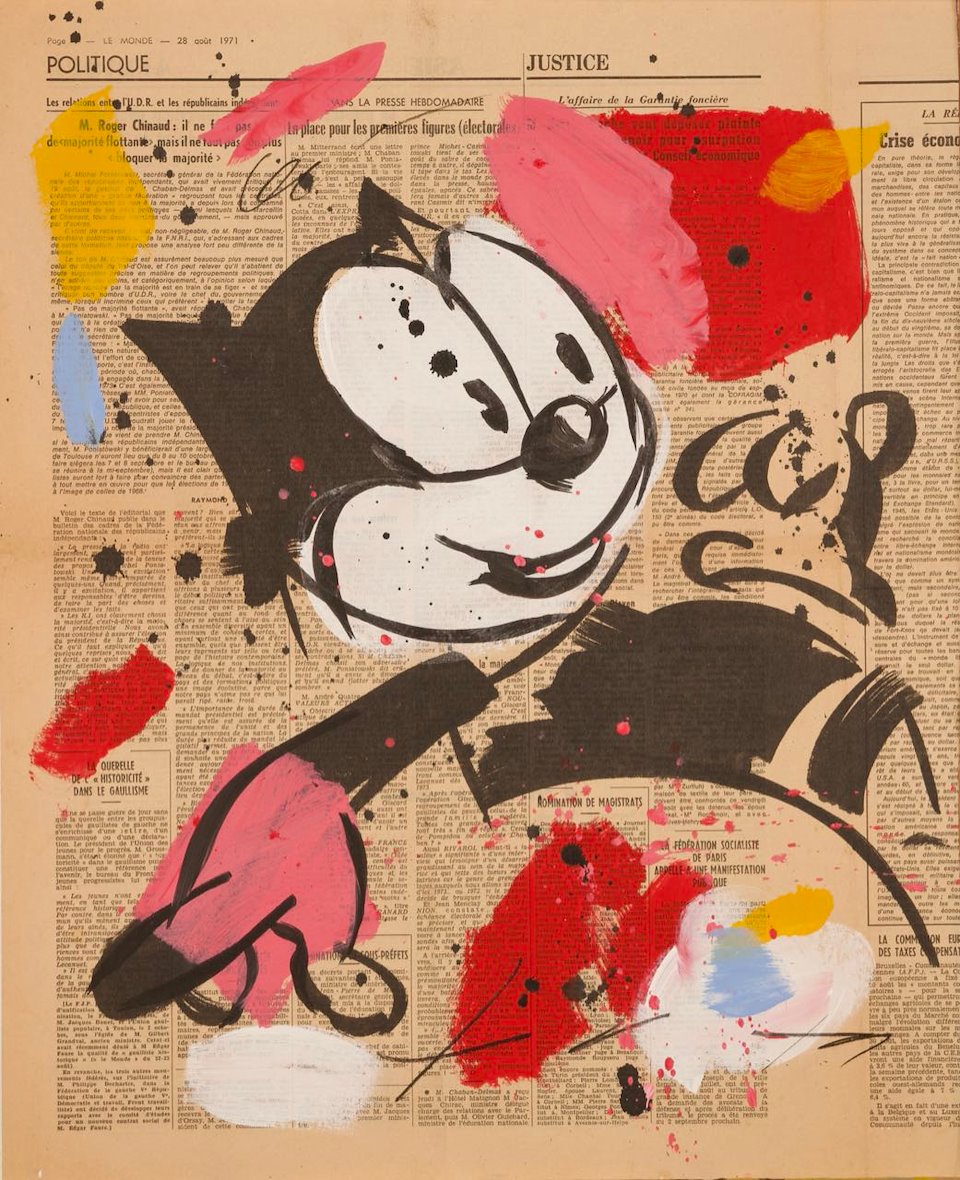 Felix study on vintage newspaper
Next
Tiki Miki